Dibaq Sense it's an exclusive hypoallergenic and 100% natural range made with premium fresh ingredients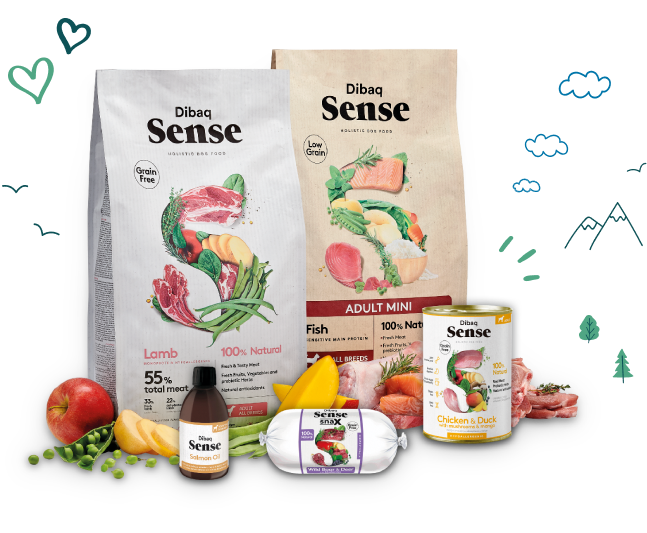 The true holistic experience for the five senses!
Fresh meat, fish, fruit and vegetables
Dibaq Sense it's cooked with delicious 100% natural ingredients. What. The perfect combination to provide the highest nutritional value protein and guarantee the best taste.
Hypoallergenic
No wheat, corn, gluten, soy and egg. Dibaq Sense it's a exclusive hypoallergenic prescription it is designed to take care of sensitive digestion and prevent allergies, dermatitis and intolerances.
Other articles of leather
It goes through the eyes and it's good for protecting the joints! It's just that Dibaq Sense it's made with joint protectors (glucosamine and chondroitin) that protect the joint wear of our feet and keep us alive.
Natural antioxidants and prebiotic herbs
Have we heard of natural antioxidants and prebiotics? I did! You know, oregano, thyme, rosemary... Dibaq Sense it provides energy, improves digestion, strengthens defenses and delays cell aging.
From Segovia to the world
Our select palates note that the recipes of Dibaq Sense are made in their own kitchens, with a commitment to sustainable growth based on the use of local ingredients, which encourage the reduction of CO2 emissions.
Dibaq Sense for DOGS
Dibaq Sense for dogs is a hypoallergenic food made with 100% natural ingredients. Our recipes are cooked in Segovia with great care, like at home. Delicious fresh meats, fresh fruits and vegetables, joint protectors and natural antioxidants. Discover the range of feed, cans, snacks and supplements.
Dibaq Sense for Cats
Dibaq Sense for cats is a hypoallergenic food made with 100% natural ingredients. Grain Free recipes cooked with over 40% fresh meat and fish as first ingredient, fresh fruits and vegetables, dental complex, natural antioxidants, probiotics, taurine and joint protector. Delicious croquettes and cans for the finest cats.